Envent was commissioned to design and implement a bespoke self-service accommodation checkin, kiosk, mobile digital wayfinding and online survey solution for the Gallipoli Barracks in Brisbane. The final solution was well received and is now an integrated part of the Barracks operations.
Absolutely loved working with John, Michelle, Byron and the Downer team, Can't wait to work with them again!


Project Scope:
Downer Defence was looking to develop a hybrid wayfinding and LIA room check-in solution. A 24-hour check-in kiosk would provide 100% automated and self-serving functions such as LIA check-in, Digital maps to accommodation facilities, issue of RFIDs and details of site amenities and facilities via their mobile devices. This contemporary inspiration was on par with civilian and community hotel experiences whilst preserving Australia's security integrity. In achieving this goal Downer Defence partnered with Envent.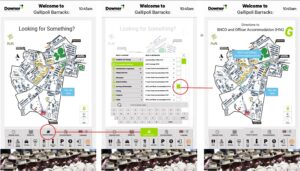 Envent undertook the design, development and integration of Envent.Cloud with the robust RMS online room reservation system. Deliverables included the installation of a physical kiosk with checkin and wayfinding capabilities servicing 1300 rooms, along with a mobile phone wayfinding application. Envent was also commissioned to develop and implement a national online survey that serves 18 Barracks.
Envent had so much fun along the way and ended up delivering a few additional features the solution.

Check link below for more project images;